Biography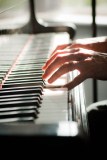 Piano
Antoine started playing piano at the age of about 6 (back in 1975), and was
classically trained
up to grade 7.
Although an able music reader, Antoine soon discovered the exciting ability to play 'by ear', copying a piece of music just by hearing it, and began to develop the skills of improvisation and composition. In time he became very interested in jazz and jazz theory and did some personal study in this area, listening to a wide variety of jazz music and taking opportunities to play with other jazz musicians when possible.
With 42 years of experience now behind him, he has refined this ability to effectively copy and interpret most popular songs and pieces of music, reproducing them on the piano in a unique and original style. But besides performing other people's music, he also composes original music and has collaborated with numerous lyric writers to provide the music for their songs.
Antoine brings something very different which has to be heard to be appreciated: an original and highly refreshing approach to wedding and cocktail-bar style piano playing, where familiar tunes from well known songs, slow and fast, are interpreted and performed in a highly original way, taking the listener on a continuous, magical and unpredictable journey through many genres and eras, all seamlessly linked together.
Over the years Antoine has learnt to play in many styles, including classical, jazz, blues, gospel, folk, contemporary, ragtime and popular, and has built up a very large and constantly growing repertoire comprising hundreds of titles of many genres, and ranging from many decades ago to recent years. Download instrumental repertoire).
Besides playing in weddings, Antoine has performed as a pianist or singer in a variety of different environments: pubs, piano bars, hotels, restaurants, stage musicals, pop/jazz/gospel bands, and recording studios. He is also keyboardist in 'The Beautiful Couch', one of the UK's leading Beautiful South/Housemartin tribute bands.
Singing and acoustic guitar
Antoine started learning a few chords while still in his teens, but really started gaining real experience singing and playing the acoustic guitar in 1996, and building up a memorised repertoire of guitar-orientated cover songs, a great way of expanding the chord vocabulary. Although he was already an accomplished piano player by this time, what particularly appealed to Antoine about the acoustic guitar was its portability (unlike a piano!), and he spent many hours sitting in a local park practising, either alone or playing along with other musicians.
As well as learning chords, Antoine also concentrated on learning scales and improvisation, becoming a very competent melody player.
He picked up additional experience playing in open music sessions, and was for 5 years the guitarist and backing vocalist in a lively and well-established Hull-based 'Irish' band called 'Punch the Horse', which was great fun and a great way of building up confidence and stage presence.